PCM is used special steel coil as raw material and surfaces is painted a layer of orgainic ploymer or polymer print film, which has advantaged of metal adn organic polymer, not only good adhesive of organic polymer, formability, corrosion resistance, decorative, but also high strength and easy processing, can be easily puching, bending, deep drawing, welding. etc. So it has perfect practicality, decorative, workability, durability. Currently, the PCM is produced by print film roller coating process and roller painting.
Steel coil
PCM have cold-rolled sheet, galvanized steel and Aluzinc
PCM thickness: 0.3-0.8mm, cold rolled meterial typically is used for SPCC (general usage), SPCD (punch), SPCE (deep punch), and other products, chemical composition and physical properties as follow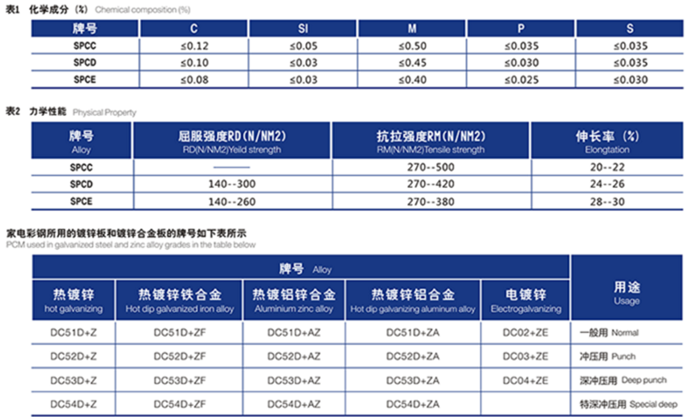 Coating
Due to higher require of PCM surface, PCM with topcoat paint is generally used in high quality polyester painting, which need to be clean ,free of impurtities and grain material trees, usually on the line needs to be filtered. In order to improve the durability of home appliance, especially for door use appliance, can use high-performance silicon-modified polyester coating, fluorocarbon coating.
PVC/PET Film
VCM is used in PVC or PET film as a general base film, and then printed different decorative patterns on the surface, so that the VCM can be use widely on refrigerator door panels
Protective film
During the molding process for forming the line, in order to avoid scratch on surface in processby several times, PCM and VCM have to be covered with layer protective film on surface.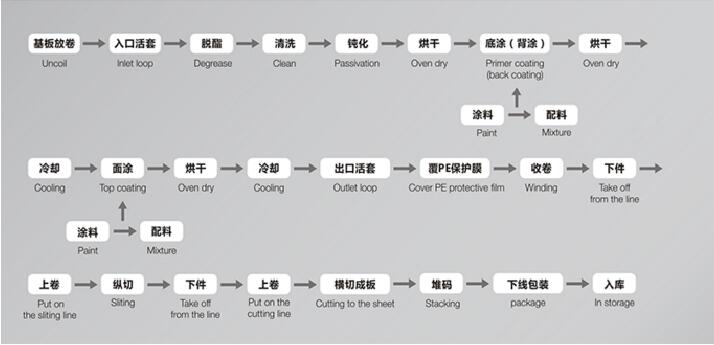 Application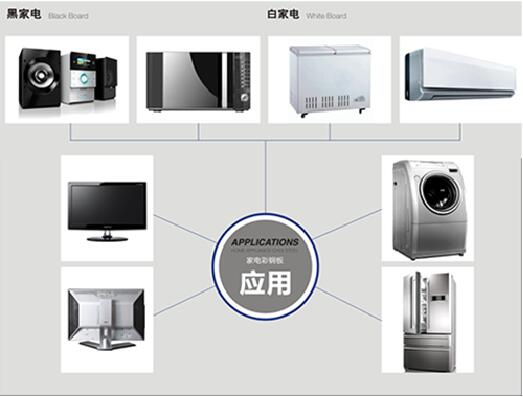 According to the different production process, pre-painting steel coil can be divided into PCM and VCM with printed film. PCM is used for refrigerators, washing machines, freezers and other applicances door,electric appliances lateral plate, microwave oven,video disc, TV backplate; VCM is mainly used for refrigerator doors, washing machines and other appliances
According to different appliances usage, PCM can be divided into white home appliance and black home appliance.